Shape: round tube
Material: brass
Quantity: 4 pieces (one each in the thicknesses 0.4mm, 0.6mm, 0.8mm, 1.0mm)
Length: 305mm
With this "Slide-Fit" product, all 4 round tubes can be inserted into one another.
Albion Alloys offers high quality precision metals for creative model makers.
Wire, tubes, strips, sheets, corner profiles are available, among other things.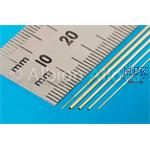 Write now your personal experience with this article and help others with their purchase decision.