Airbrush Fengda BD-180K with 0.2mm and 0.3mm nozzle

Fine airbrush BD-180K double action, fitted with adjustable air screw, needle position limiter and fixed 9ml. metallic paint cup. Suitable for very fine, fine to medium detail work. The kit comes immediately mounted nozzle and needle 0.2mm and a single 0.3mm needle and nozzle.

Highly suitable for custom paint, modeling, portrait work, nail art, tattoo etc. Great aubrush, high quality at a super price! and comes in pretty plastic storage case.

- BD-180K Airbrushkit 9ml
- Adjustable air screw.
- Double action.
- Mounted needle - nozzle 0.20 mm
- 0.3mm needle and nozzle supplied separately
- Needle position limiter.
- Metallic paint 9 ml beaker.
- 1.90 meter hose
- Weight +/- 110 grams
- Pressure 1.4 to 2 bar.
- Incl. plastic storage box and accessories.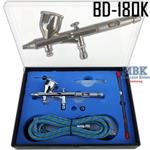 Schreiben Sie jetzt Ihre persönliche Erfahrung mit diesem Artikel und helfen Sie anderen bei deren Kaufentscheidung