Bolt Action: US Army 50cal HMG Team
Item Number:
BA-403013004 (189)
Manufacturer
Bolt Action
Scale:
1:56
7.

95

€
Unfortunately sold out at the moment
No new delivery date known, if necessary please activate stock alert
The Browning M2HB .50-cal. was undoubtedly one of the best HMGs of World War II. It is still used today. It was renowned for its penetration capacity, as its heavy bullets could go right through the armour of half-tracks, armoured cars and even some light tanks. Mounted on a 20kg tripod, its weight made it very stable allowing accurate bursts of fire.

Pack contains 1 metal gun and 4 metal crew figures.

Scale: 28mm / 1:56

This product is supplied unassembled and unpainted. Glue and paints not included.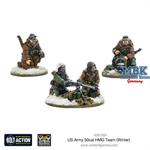 Write now your personal experience with this article and help others with their purchase decision.