The Paints Module 41mm has twenty holes for paints or other bottles with a diameter of 41mm.

Note! The Module can be used only in the top row of the Modular Workshop System.

The Module to connect with other products of Modular Workshop System.

Dimensions: 30cm x 15cm x 15 cm

Main feature:

- 20 holes for bottles with a diameter of 41mm.

This Module fit to following paints and many others with similar diameter:

Tamiya 23ml



To connect modules use magnets that are included. Thanks to this solution, you can always change the configuration of the workshop according to your needs.

The set consists perfectly fitted parts and assembly instructions. For the assembly wood glue will be needed..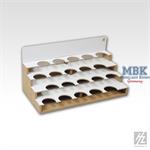 Write now your personal experience with this article and help others with their purchase decision.