Zuikaku Aircraft Carrier Pearl Harbor - Waterline
Item Number:
31223
Manufacturer
TAMIYA

plastic kit
scale 1/700
not build or painted

Jap. Zuikaku Pearl Harbor aircraft carrier waterline

The Japanese aircraft carrier Zuikaku was launched in November 1939.
In the Pacific War, the Zuikaku and her sister ship Shokaku formed the 5th aircraft carrier division.
The Zuikaku was involved in the attack on Pearl Harbor and the Battle of the Philippine Sea in 1944, where it was badly damaged by aerial bombs.
It sank in the autumn of 1944 in the sea / air battle in the Gulf of Leyte. The Tamiya kit is a 1: 700 scale replica of the Japanese aircraft carrier Zuikaku.
The detailed model shows the Zuikaku as it looked at the time of the attack on Pearl Harbor in 1941.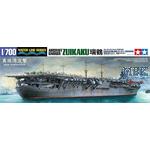 Write now your personal experience with this article and help others with their purchase decision.