Kumano Japanischer leichter Kreuzer - Waterline
Item Number:
31344
Manufacturer
TAMIYA
Scale:
1:700

plastic kit
scale 1/700
not build or painted

Jap. Kumano Lt. Cruiser waterline

The Kumano, a Mogami-class heavy cruiser, was completed in the fall of 1937. As with the sister ships, the main armament consisted of 5 triple gun turrets. Each of these 15.5 cm guns (projectile speed of 920 m / s) had a maximum range of 27,400 m and a projection angle of up to 55 degrees.

During her service, the Kumano was used in the Battle of Midway, the Battle of the Eastern Solomon Islands and the largest naval battle of the Second World War, the Battle of Leyte Gulf. Here the Kumano suffered considerable damage. Shortly before the repair work was completed, she was hit by several torpedoes and sank in Santa Cruz Bay in 1944.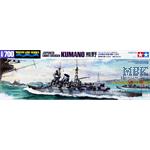 Schreiben Sie jetzt Ihre persönliche Erfahrung mit diesem Artikel und helfen Sie anderen bei deren Kaufentscheidung