Flames Of War: Comet Platoon
Item Number:
FoW-BBX30
Manufacturer
Flames Of War
Scale:
1:100

31.

50

€
Unfortunately sold out at the moment
No new delivery date known, if necessary please activate stock alert
Includes five plastic Comet cruiser tanks, one plastic Tank Commander sprue & one Decal sheet.

The Cruiser Tank (A34) Comet was the pinnacle of British cruiser tank development, following on from the Cruiser Mk VIII (A27) Cromwell. With its powerful 600hp Rolls-Royce Meteor engine, the Comet retained the Cromwell's speed, but with improved armour protection. Its powerful 77mm gun was a match for all but the heaviest enemy tanks.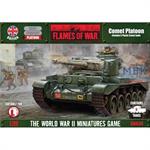 Write now your personal experience with this article and help others with their purchase decision.