Bolt Action: Waffen-SS Cavalry NCO & LMG 1942-45
Item Number:
BA-WGB-LSS-14
Manufacturer
Bolt Action
Scale:
1:56
14.

50

€
Unfortunately sold out at the moment
No new delivery date known, if necessary please activate stock alert
The 8th SS Cavalry Division Florian Geyer was a Waffen-SS cavalry Division during World War II. It was formed in 1942 from a cadre of the SS Cavalry Brigade which was involved in anti partisan operations behind the front line and was responsible for the extermination of tens of thousands of the civilian population.[1] It continued with the so-called pacification operations in the occupied Soviet Union, leading to further atrocities.

Contents:

6 figures and 3 horses

Scale: 28mm / 1:56

This product is supplied unassembled and unpainted. Glue and paints not included.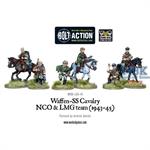 Write now your personal experience with this article and help others with their purchase decision.