Bolt Action: Waffen-SS 10.5cm leFH 18/40 (1943-45)
Item Number:
BA-WGB-LSS-08 (350)
Manufacturer
Bolt Action
Scale:
1:56
17.

50

€
Unfortunately sold out at the moment
No new delivery date known, if necessary please activate stock alert
105mm calibre and larger howitzers were employed at divisional level. These long-ranged, heavy hitting, weapons could sometimes be overrun and in bolt action provide a fearsome objective to take on for both men and machines.
The 10.5 cm leFH 18 was a German light howitzer used in World War II and the standard artillery piece of the Wehrmacht.

1 gun and 4 soldiers

Scale: 28mm / 1:56

This product is supplied unassembled and unpainted. Glue and paints not included.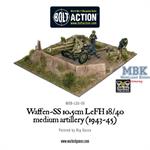 Write now your personal experience with this article and help others with their purchase decision.