Bolt Action: USMC 75mm pack howitzer
Item Number:
BA-WGB-AM-26 (304)
Manufacturer
Bolt Action
Scale:
1:56
12.

50

€
Unfortunately sold out at the moment
No new delivery date known, if necessary please activate stock alert
Providing long range fire support for US commanders, the 75mm pack howitzer makes it's way into battle hardened hand of the USMC - raining shells from above onto the enemies of Uncle Sam!

The 75mm howitzer saw combat during the Second World War with the US Marine Corps. Being designed in such a way that it could be broken down into several pieces and carried by pack animals, hence it's name, it was an ideal support weapon in the steep hills and jungle terrain of the Far East.

Scale: 28mm / 1:56

This product is supplied unassembled and unpainted. Glue and paints not included.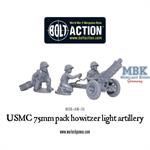 Write now your personal experience with this article and help others with their purchase decision.