Bolt Action: US Army M5 3" anti-tank
Item Number:
BA-WGB-AI-36 (298)
Manufacturer
Bolt Action
Scale:
1:56
14.

50

€
Unfortunately sold out at the moment
No new delivery date known, if necessary please activate stock alert
In 1940 the American Army asked for a gun that could effectively stop any tank. The design foresaw a 76.2mm AA barrel while the gun carriage would be that used on the 105mm howitzer. The result did not live up to expectations and the design was shelved. After the invasion of Europe the need for a higher calibre gun forced the army to dust-off the design and around 3,000 were made and issued to Tank Destroyer units. From 1945 they were gradually phased out entirely in favour of mobile Tank Destroyers such as the M10.

Pack contains 1 metal gun and 4 metal crew figures.

Scale: 28mm / 1:56

This product is supplied unassembled and unpainted. Glue and paints not included.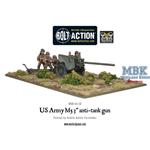 Write now your personal experience with this article and help others with their purchase decision.