Bolt Action: Soviet Army Dog Mine anti-tank teams
Item Number:
BA-WGB-RI-38 (330)
Manufacturer
Bolt Action
Scale:
1:56
5.

95

€
Unfortunately sold out at the moment
No new delivery date known, if necessary please activate stock alert
Anti-tank dogs (German: Panzerabwehrhunde or Hundeminen, "dog-mines") were dogs taught to carry explosives to tanks, armored vehicles and other military targets. They were intensively trained by the Soviet military forces used in 1941–1942 against German tanks in World War II. Although the original dog training routine was to leave the bomb and retreat so that the bomb would be detonated by the timer, this routine failed and was replaced by an impact detonation procedure which killed the dog in the process.

Contents:

Pack contains 2 metal soldier figures and 2 dogs.


Scale: 28mm / 1:56

This product is supplied unassembled and unpainted. Glue and paints not included.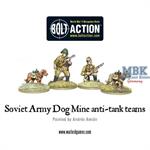 Schreiben Sie jetzt Ihre persönliche Erfahrung mit diesem Artikel und helfen Sie anderen bei deren Kaufentscheidung