Bolt Action: Soviet 82mm Mortar Team
Item Number:
BA-WGB-RI-24 (328)
Manufacturer
Bolt Action
Scale:
1:56
6.

95

€
Unfortunately sold out at the moment
No new delivery date known, if necessary please activate stock alert
Like most countries in WW2 the Russians fielded masses of mortars and artillery, the "Gods of War" as Stalin put it. The most common was the 82mm mortar, used throughout the war. It equipped all manner of Soviet formations, its great rate of fire and simplicity being of great use in repelling the horde.

Contents:

Pack contains 3 metal figures and 1 mortar.


Scale: 28mm / 1:56

This product is supplied unassembled and unpainted. Glue and paints not included.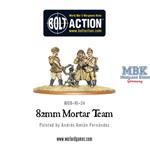 Write now your personal experience with this article and help others with their purchase decision.