Bolt Action: Guarding the Chateau
Item Number:
BA-WGB-HR-01 (357)
Manufacturer
Bolt Action
Scale:
1:56
5.

95

€
Unfortunately sold out at the moment
No new delivery date known, if necessary please activate stock alert
Operation Biting, also known as the Bruneval Raid, was the code name given to a British Combined Operations raid on a German coastal radar installation near Chateau Bruneval in northern France, which took place on the night of 27–28 February 1942 during World War II.

Contents:

1 sentry, 1 scientist, 1 Gestapo guy and 1 MP

Scale: 28mm / 1:56

This product is supplied unassembled and unpainted. Glue and paints not included.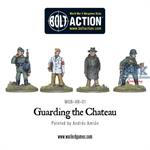 Write now your personal experience with this article and help others with their purchase decision.