Bolt Action: Finnish Panzerschreck and AT rifle
Item Number:
BA-WGB-FN-23 (384)
Manufacturer
Bolt Action
Scale:
1:56
9.

95

€
Unfortunately sold out at the moment
No new delivery date known, if necessary please activate stock alert
Faced with the vast forces of the Soviets, the courageous and resourceful Finnish soldiers, masters of fieldcraft, sniping, and small unit tactics, slowed and then began to roll back the massive Soviet assaults.
The Panzerschreck was designed as a lightweight infantry anti-tank weapon. The weapon was shoulder-launched and fired a fin-stabilized rocket with a shaped-charge warhead. It was made in smaller numbers than the Panzerfaust, which was a disposable recoilless gun firing an anti-tank warhead. It was an enlarged copy of the American bazooka

Pack contains 1 metal gun and 3 metal foot figures.

Scale: 28mm / 1:56

This product is supplied unassembled and unpainted. Glue and paints not included.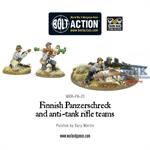 Write now your personal experience with this article and help others with their purchase decision.