Bolt Action: Chindit 3" Mortar Team
Item Number:
BA-WGB-BI-28 (404)
Manufacturer
Bolt Action
Scale:
1:56
6.

95

€
Unfortunately sold out at the moment
No new delivery date known, if necessary please activate stock alert
When the Vickers gun couldn't get a bead on the Boche, the good old 3" mortar was brought into action lobbing its lethal shells high before whistling down to spray shrapnel on those not able to find cover in time. The three inch mortar was used in all theatres by the Commandos and was a reliable and hard hitting weapon. The Warlord model is served efficiently by its crew of three.

Scale: 28mm / 1:56

This product is supplied unassembled and unpainted. Glue and paints not included.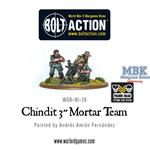 Write now your personal experience with this article and help others with their purchase decision.