Bolt Action: Chi-Ha Platoon
Item Number:
BA-402016001
Manufacturer
Bolt Action
Scale:
1:56
56.

00

€
Unfortunately sold out at the moment
No new delivery date known, if necessary please activate stock alert
Even the emperor is pleased with what this box contains:

Enough plastic components to make 3 Chi-Ha's
Blast markers
Decal sheets
Stat card
A detailed booklet describing how to build and paint your Chi-Ha's!

Chi-Ha

With over 2,100 units made, the Type 97 Chi-Ha medium tank was the second most produced Japanese medium tank of World War II, after the smaller Type 95 Ha-Go. It saw extensive action in the Second Sino Japanese War, the Battles of Khalkhin Gol against the Soviet Union, and throughout World War II.

The driver sat on the right and hull machine gunner to the left. The tank commander also acted as the gunner, assisted by a loader/radioman/rear machine-gunner. The Chi-Ha had no intercom so the driver had to respond to a series of twelve buttons in the turret linked to buzzers sited near the driver for instructions.

Although the Chi-Ha had no coaxial machine-gun it had a rear turret machine-gun. The turret was equipped with a relatively large commander cupola. Later, a horse-shoe radio aerial was mounted – a feature of many WWII Japanese tanks.

Scale: 28mm / 1:56

This product is supplied unassembled and unpainted. Glue and paints not included.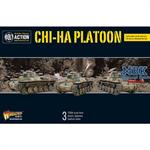 Write now your personal experience with this article and help others with their purchase decision.