Bolt Action: Templates
Item Number:
BA-409000001
Manufacturer
Bolt Action
5.

98

€
Unfortunately sold out at the moment
No new delivery date known, if necessary please activate stock alert
Brand new for Bolt Action Second Edition! All the tokens required to keep track of your squads actions and other useful reminders plus the essential new template for High Explosive (HE) ordnance - the bigger the artillery the bigger the area!
Written by Andy Chambers, a copy of the Bolt Action rulebook is needed to use this supplement.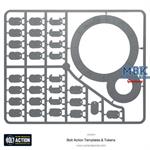 Write now your personal experience with this article and help others with their purchase decision.