Bolt Action: Italian Army command
Item Number:
BA-WGB-II-22 (397)
Manufacturer
Bolt Action
Scale:
1:56
6.

95

€
Unfortunately sold out at the moment
No new delivery date known, if necessary please activate stock alert
Incompetent military leadership was aggravated by the Italian military's equipment, which predominantly dated back to the First World War and was not up to the standard of either the Allied or the German armies.[

This pack gives you a italian HQ.

4 figures

Scale: 28mm / 1:56

This product is supplied unassembled and unpainted. Glue and paints not included.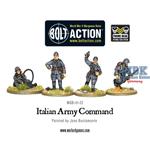 Schreiben Sie jetzt Ihre persönliche Erfahrung mit diesem Artikel und helfen Sie anderen bei deren Kaufentscheidung