Bolt Action: Finnish MMG Team
Item Number:
BA-WGB-FN-27 (388)
Manufacturer
Bolt Action
Scale:
1:56
6.

95

€
Unfortunately sold out at the moment
No new delivery date known, if necessary please activate stock alert
Faced with the vast forces of the Soviets, the courageous and resourceful Finnish soldiers, masters of fieldcraft, sniping, and small unit tactics, slowed and then began to roll back the massive Soviet assaults.

The Maxim M/32-33 is a Finnish modification of the Russian M1910 Maxim, developed by Aimo Lahti in 1932. The weapon was able to fire at the rate of 850 rounds/min, while the Russian M1910 and earlier Finnish M09-21 were capable of 600 rounds /min.

Pack contains 3 metal foot figures and 1 machinegun.

Scale: 28mm / 1:56

This product is supplied unassembled and unpainted. Glue and paints not included.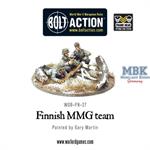 Write now your personal experience with this article and help others with their purchase decision.