Star Trek TOS U.S.S. Enterprise Pilot Parts Pack
Item Number:
PLLMKA018
Manufacturer
MKA
Scale:
1:350
Conversion / additional parts for the 1:350 Enterprise vom Polar Lights
(PLL880 or PLL938)
Contains:
- Impulse Engine
- Bridge Dome & B/C deck
- Nacelle front and rear caps
- Deflector dish
- Parts molded in color
- Updated decal sheet
- Scale 1:350
- not built/painted
- paint and glue not included
Everything needed to create either the 1st or 2nd pilot versions of the U.S.S. Enterprise in 1:350 scale as featured in the classic Star Trek episodes "The Cage," "The Menegerie Pt 1 & Pt 2" and "Where No Man Has Gone Before".
Please note that the item will be ordered on request. After your order, it will take round about two or three weeks until the item arrives here.
Please contact our
Customer Care-Team
if you have any questions.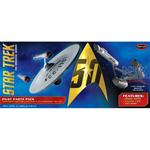 Schreiben Sie jetzt Ihre persönliche Erfahrung mit diesem Artikel und helfen Sie anderen bei deren Kaufentscheidung