AV-8B Harrier Plus
Item Number:
cobi5809
Manufacturer
COBI
Scale:
1:48
The AV-8B Harrier II is a British-American reconnaissance and close support aircraft produced since 1983. The plane has a unique possibility of a short take-off and landing. However, it is only the possibility of vertical take-off and landing that makes this plane a machine with great possibilities, which can operate in various conditions. The Harrier II is a US-developed modernized and modernized version of the Hawker Siddeley Harrier aircraft.
Currently in use are the American AV-8B Harrier II and AV-8B + Harrier II Plus and the British versions of Harrier GR.5, Harrier GR.7 and GR.9 produced under license.
The AV-8B Harrier II model was designed entirely of COBI construction blocks. The use of 424 elements made it possible to faithfully recreate the characteristic shape of the plane in a 1:48 scale model. The model has been covered with high-quality prints that do not wear off even during intensive use. The plane was equipped with an opening cabin, movable rudders and ailerons. The model looks even better thanks to an elegant display stand with a plate containing a signature. This licensed set is certainly a great gift idea for everyone, regardless of the age of the fan, aviation and military. It looks great in an elegant study as well as in a teenager's room.
424 high-quality blocks
produced in the EU by a company with over 20 years of tradition,
meet the safety standards for products for children,
fully compatible with other brands of construction blocks,
blocks with prints do not deform and do not fade during play or under the influence of temperature,
clear and intuitive instruction based on drawings and icons,
plane in 1:48 scale
display stand and name plate,
model under original license from Boeing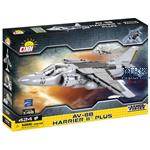 Schreiben Sie jetzt Ihre persönliche Erfahrung mit diesem Artikel und helfen Sie anderen bei deren Kaufentscheidung