Scale Military Modeler - Juli 2012
Item Number:
SMM0712
Manufacturer
Sam Publications
5.

90

€
Unfortunately sold out at the moment
No new delivery date known, if necessary please activate stock alert
Englischsprachiges Modellbaumagazin

Inhalt:
Polish Campaign Panzer
Kevin details the Dragon Pz.Kpfw.III Ausf. E 'early version'
Kevin Potts

Ramming Hit
Magach 7A
Jim cross-kits in 1:35 to create a stunning IDF 'Ramming Hit'
Jim Carswell

Modellers Masterclass
KA-MI – Floating Firepower
The Japanese had a flair for unusual fighting vehicles during World War II and in this Masterclass build Keith Forsyth looks at one such example, IJN Type-2 (KA-MI) Amphibious Tank with Floating Pontoons using the 1:35 Cyber-Hobby kit.
Keith Forsyth

Fighting Colours
The M1038 'Hummer'
Troop and Transport and Communications

First Look
Kinetic M-ATV

Walker's Big Brother
Bill scratch builds the M41 Bulldog's larger sibling, the M52 Self Propelled Howitzer in 1:35 scale
Bill Evans

Dio-Armour
An Under-Mined Sherman
Sherman M4A3 ETO (W)
This small diorama shows a Sherman tank completely stuck in the mud after hitting mines that have blown off both sets of tracks.
Kevin Potts

M60A1
'masster' Patton
US Army – Colourful Camo

Bring in the Big Guns!
Bob builds the HobbyBoss 152mm ShkH DANA S.P.G.
Bob Cantrell

Screaming Eagle
Marcin goes large with Dragon's 1:16 figure kit
Marcin Kardaszewski

And much more...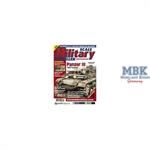 Write now your personal experience with this article and help others with their purchase decision.