Bolt Action: Type 95 Ha-Go light tank
Item Number:
BA-402416005
Manufacturer
Bolt Action
Scale:
1:56
21.

50

€
Unfortunately sold out at the moment
No new delivery date known, if necessary please activate stock alert
The Type 95 Ha-Go was a light tank used by the Imperial Japanese Army in combat operations in the Second World War. It proved sufficient against infantry, but, like the American M3 Stuart, it was not designed to fight other tanks. Approximately 2,300 units were produced, making it the most numerous Japanese armoured fighting vehicle of the time.

Contains a resin and metal vehicle.

Scale: 28mm / 1:56

This product is supplied unassembled and unpainted. Glue and paints not included.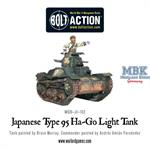 Write now your personal experience with this article and help others with their purchase decision.