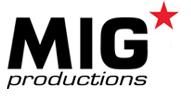 4.

95

€
Base Price: 1 Liter = 66.

00

€
Unfortunately sold out at the moment
No new delivery date known, if necessary please activate stock alert
With the new MIG Productions MUDs you will be able to make the most realistic mud, soils and landscapes in your dioramas.

This new special formula is the answer to the most demanding requests. Now, modellers have the definitive solution for the soil representation.
With MIG Productions MUDs solutions you will find, not only different colors, you will also find different textures that will turn your work into a masterpiece!

How to use

MIG Productions MUDs are a colored, slightly gritty paste of acrylic resin, pigment and micro particles. Applied with a brush or spatula, the product is easily shaped to render a mud terrain in all kinds of conditions, sandy beach, desert dunes… It can be also used for rust and weathered metal textures.
This product can also be applied into tank tracks or wheels in order to represent mud or soil concentrations.
For more effects and color variations, MIG Productions MUDs can be mixed with MIG Productions Pigments, Filters, Washes and MIG Acrylic Resin. Imagination is the limit!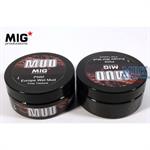 Schreiben Sie jetzt Ihre persönliche Erfahrung mit diesem Artikel und helfen Sie anderen bei deren Kaufentscheidung