4.

95

€
Base Price: 1 Liter = 215.

22

€
4 Pieces available
Shipping 1 - 2 days
TAMIYA X and XF acrylic paints are made from water-soluble acrylic resins and are ideal for brush painting or application with airbrush sprayers.
These colors can be used on styrene resins, styrofoam, wood and all common model plastics. For better adhesion, we recommend a previous primer (TAMIYA primer e.g. 87044 white, 87042 grey, 87064 light grey) of the respective material. The color covers well, flows smoothly and blends easily. Before curing, the paint can be washed away with normal water.

- Colors marked "X" have a gloss finish, while colors marked "XF" are matte.

- For processing with airbrush sprayers (depending on the nozzle used, 0.25 - 0.50 mm), the X/XF colors should be diluted with TAMIYA X-20A acrylic thinner (X20A-23ML, X20A-46ML or X20A-250ML).

- The X/XF colors can also be thinned with the TAMIYA Lacquer Thinner 87077. This enables a faster drying result and a harder surface finish.

- With the addition of the TAMIYA Paint Retarder 87114 you get a smoother paint surface after drying (max. mixing ratio 1:10).

Content: 23 ml

Signal word Attention

Hazard warnings:

- H226 Flammable liquid and vapour.
- H319 Causes serious eye irritation.
- H336 May cause drowsiness and dizziness.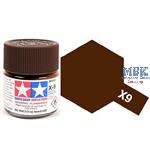 Write now your personal experience with this article and help others with their purchase decision.