Von Nato Ziege und Co. 1955-1966 (Bundeswehr)
Item Number:
VS-Nato
Manufacturer
VS Books
29.

80

€
Unfortunately sold out at the moment
No new delivery date known, if necessary please activate stock alert
DIE BUNDESWEHR - VON NATO-ZIEGE UND CO.
1955-1966

Eine Bilderreise durch die frühen Jahre der Bundeswehr Band 2
A Pictorial Journey through the Early Years of the Bundeswehr - Volume 2

ISBN 978-3-932077-44-9

Jens Hill

Während der 1. Band »Es begann in Andernach« noch komplett aus Bildern eines einzigen Pressefotografen bestand, lenkt der Autor den Blick hier nun in die privaten Fotoalben der Soldaten.

Die Aufbauphase der Bundeswehr zeichnete sich durch eine Vielzahl ungewöhnlicher Fahrzeuge aus. Neben den auch heute noch bekannten Fahrzeugtypen der frühen Jahre, waren sowohl die aus Beständen der neuen Verbündeten übernommenen, als auch die nur in Kleinserien beschafften, oder gar als Prototypen nie in den Truppengebrauch gekommenen Fahrzeuge und Geräte beliebte Fotomotive. Auch der skandalträchtige HS30, dessen Beschaffung eine politische Krise in der Bonner Republik auslöste, darf hier nicht fehlen.

Bei den Handwaffen waren die Bestände anfangs ähnlich gemischt - Enfield, Garand oder M1 Carbine seien beispielsweise genannt. Erst das G1 brachte langsam die notwendige Standardisierung, die mit der umfassenden Einführung des G3 ihren Abschluss fand.

Auch bei der Uniformierung waren die Veränderungen gravierend, bis der Feldanzug Moleskin für fast drei Jahrzehnte das Bild des Soldaten prägen sollte. Bekleidungs- und Ausrüstungsstücke aus den Anfangsjahren der Bundeswehr sind heute bereits gesuchte Sammlerstücke geworden, die Fotos dokumentieren den Wandel eindrucksvoll und ermöglichen die zeitliche Einordnung der unterschiedlichen Ausrüstungsgegenstände.

Format 28 x 21 cm Querformat, gebunden, 136 Seiten, 243 Abbildungen,Texte deutsch/englisch - with complete English text !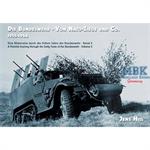 Write now your personal experience with this article and help others with their purchase decision.