2.

90

€
Base Price: 1 Liter = 131.

82

€
Order Item
Will be ordered when you order.
Order Item
Farbe aus dem Set XS02.
Spezielle Farben für die Flugzeuge Buffalo, Hudson, Airacobra und Havoc der Königlichen Australischen Luftwaffe während des 2. Weltkriegs.
Die Acrylfarben haften auf Kunststoff, Resin, Metall und Holz.
Die Farben können mit dem Pinsel oder Airbrush aufgetragen werden.
Grundsätzlich können die Farben mit Wasser verdünnt werden. Für den Einsatz mit der Airbrush empfiehlt sich allerdings die Verdünnung mit der Lifecolor Verdünnung.

Inhalt 22 ml je Flasche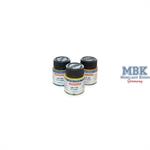 Write now your personal experience with this article and help others with their purchase decision.