2.

50

€
Base Price: 1 Liter = 113.

64

€
Unfortunately sold out at the moment
No new delivery date known, if necessary please activate stock alert
Modelcolor hat ein sehr breites Farbsortiment von Acrylfarben, speziel für den Militärmodellbau finden sich sehr autentische Farbtöne.
Die Acrylfarben haften auf Kunststoff, Resin, Metall und Holz.
Die Farben können mit dem Pinsel oder Airbrush aufgetragen werden.
Grundsätzlich können die Farben mit Wasser verdünnt werden. Für den Einsatz mit der Airbrush empfielht sich allerdings die Verdünnung mit der Lifecolor Verdünnung.

Inhalt 22 ml je Flasche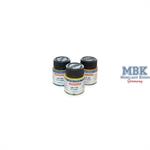 Write now your personal experience with this article and help others with their purchase decision.