TSC211 Verbranntes Braun
Item Number:
LC-TSC211
Manufacturer
LIFECOLOR

Medium aus dem Set TSC01
Tensocrom ist eine Mischung aus Farbpigmenten und einem speziellen Lösungsmedium mit deren Hilfe unterschiedliche Lasuren auf einer Grundfarbe erzeugt werden können.
Es kann damit schattiert, verschmutzt, gealtert, akzentuiert oder Farbvariationen erzeugt werden.
Tensocrom kann auf allen gängigen Modellfarben angewendet weren.
Der Gebrauch ist sehr einfach und effektiv.
Tensocrom kann mit Pinsel oder Airbrush aufgetragen werden.
Verwendung mit dem Pinsel:
Methode 1.
Den Pinsel mit Tensocrom tränken und einen Teil der Farblösung auf einem sauberen Tuch wieder ausstreichen. Die Lasur am Modell aufbringen, wobei der Farbauftrag dabei fast transparent sein sollte.
Durch mehrere Farbaufträge im selben Bereich entstehen weiche, fein abgestufte Farbabstufungen. Die Lasuren trocknen schnell ab.
Methode 2.
Den Pinsel mit Tensocrom benetzen und kleine Farbpunkte rund um erhabene Oberflächendetails, in Vertiefungen usw. setzen.
Die Lösung trocknen lassen. Um den Effekt zu verstärken, kann die Behandlung wiederholt werden.
Pinsel nach Gebrauch mit Wasser reinigen.
Verwendung mit der Airbrush:
Tensocrom kann pur oder mit Wasser verdünnt aufgespritzt werden.
Für beste Resultate sollte ein möglichst geringer Spritzdruck gewählt werden.
Die Spritze nach Gebrauch sorgfältig mit Wasser ausspritzen und reinigen. Es stehen verschiedene Farbtöne zur Auswahl, die mit Lifecolor-Farben variiert werden können.
Inhalt 22 ml je Flasche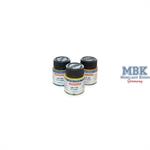 Write now your personal experience with this article and help others with their purchase decision.