Israeli AF paint set (1970 desert) (Lacquer)
Item Number:
HTK-CS12
Manufacturer
Hataka

18.

95

€
Base Price: 1 Liter = 185.

78

€
2 Pieces available
Shipping 1 - 2 days
Colorset with fine pigmented lacquer based colors (similar to Gunze Mr.Color GSC), optimized for airbrush.
6x 17ml
HTK-CS12 includes standard colours of Israeli aircraft in 1970s. The set contains the following lacquer based paints, optimised for use with airbrush:
HTK-C078 - Aluminium - Overall colour of IAF Mirage IIIs from their introduction in 1962 to early 1970s, until switch to "1970's desert colours"
HTK-C090 - Sand - FS33531, used for upper surfaces of MD 450s, F-4s, A-4s, Neshers, Super Mysteres, Fouga Magisters and helicopters
HTK-C091 - Pale Green - FS34227, used for upper surfaces of MD 450s, F-4s, Neshers, Super Mysteres, Fouga Magisters, UH-1Ds and CH-53Ds
HTK-C012 - Dark Tan - FS30219, used for upper surfaces of MD 450s, F-4s, A-4s, Neshers, Super Mysteres, Fouga Magisters and helicopters
HTK-C092 - Duck Egg Blue - FS35622, used for lower surfaces of MD 450s, F-4s, A-4s, Neshers, Super Mysteres, Fouga Magisters and helicopters
HTK-C093 – Green - FS34258, used for lower surfaces in "1970's desert colours" scheme of IAF A-4H/N Skyhawks (instead of standard Pale Green)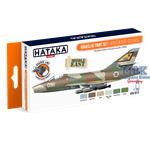 Schreiben Sie jetzt Ihre persönliche Erfahrung mit diesem Artikel und helfen Sie anderen bei deren Kaufentscheidung