13.

80

€
Base Price: 1 Liter = 135.

29

€
Unfortunately sold out at the moment
No new delivery date known, if necessary please activate stock alert
Contains 6x 17ml bottles with acrylic color
This set contains the main green colors used by the United States Army
and the Marine Corps during World War II. Included are various versions
of Olive Drab used during the war. The range of greens starts with a clear
matte version used in the years leading up to and the start of World War
II, to a darker glossy tone used in 1944. This set also includes OD 50' a
post WWII version that was used on vehicles throughout the Korean War.
This set combines well with AK4220 US ARMY & USMC CAMOUFLAGE
COLORS.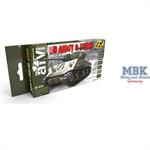 Write now your personal experience with this article and help others with their purchase decision.