REAL COLORS: WWII U.S.ARMY BASIC COLORS SET
Item Number:
AK-RCS013
Manufacturer
AK Interactive S.L.

11.

00

€
Base Price: 1 Liter = 275.

00

€
Unfortunately sold out at the moment
No new delivery date known, if necessary please activate stock alert
This set contains the four colors that are essential for painting models of vehicles used by the US Army during WWII. Included are: Olive Drab No.9/No.22, Earth Yellow No.6, Flat Black, and Olive Drab Faded. Our Real Colors are the highest quality acrylic lacquer paints, made from an improved chemical formula over other brands in the market. They spray smoothly through an airbrush; adhere to the surface and dry perfectly with a soft matt finish. These paints hold firmly all kind of weathering products. They may be diluted with AK-Interactive's specific thinner, or thinners from other manufacturers intended for acrylic lacquer paints (non-vinyl), lacquer thinners, alcohol, or water. They may also be easily mixed with other acrylic lacquer paints. Real Colors accurately reproduce the original colors.

FORGET THE CLOGGING: AK REAL COLORS FLOWS SMOOOOOTHLY IN YOUR AIRBRUSH.
Spraying is now a real pleasure and thanks to our new chemical formula, even if you damp the surface too much, the paint stretches and dries with a nice matt finish.
FOR DILUTION, OUR REAL COLOR THINNER WORKS REALLY GREAT… BUT OTHERS TOO.
Can be diluted with our own specific thinner or the ones from other brands and types: acrylic lacquer (non-vinyl), lacquer thinner, alcohol, water…
HOLDS FIRMLY ALL KIND OF WEATHERING AND EXTRA EFFECTS.
Paint adheres and dries perfectly with a soft matt finish, so you can throw on it all the treatments, punishment and weathering you love to make.
HIGHLY COMPATIBLE WITH OTHER ACRYLIC LACQUER BRANDS.
If lost in a forgotten island, you can easily mix Real Colors with the stock of paints from other brands you may have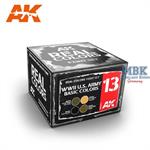 Write now your personal experience with this article and help others with their purchase decision.