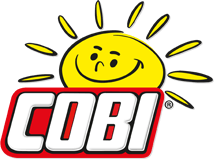 The manufacturer COBI from Warsaw (Poland) has made a name for itself in the field of plastic construction blocks. Their high-quality plastic building sets e.g. for vehicles, ships and airplanes provide fast fun and are suitable both as toys for children and relaxed leisure activities for adults.

COBI- to success with construction blocks
In 1987 Robert Podlés founded the company Eltrob, which initially produced board games and puzzles. The subsidiary Cobert was founded in 1992 with the focus on plastic injection molding and soon the production of construction blocks started under the name COBI.

Fun for young and old
From Cobi Toys we have vehicles, tanks, military and civil aircrafts, ships, figures, buildings, as well as some iconic monuments in our shop range. For example, we carry the interesting kit commemorating the 100th anniversary of the end of World War I and Poland's independence. Collectors can construct them directly out of the box while children enjoy trying out and playing on the sets. According to the manufacturer, the COBI products are suitable for children from the age of five.

Many possibilities with these bricks
The product range of COBI Toys in our online store includes modern NATO vehicles, tanks, guns and figures of various nations of the First World War (e.g. the tank Mark V Male) and the Second World War. In addition there are aircraft and ships, e.g. the RMS Titanic, from various eras. This provides a wide range of possibilities for enthusiasts of easy-to-build models.

The compatibility is very practical
COBI construction blocks fit the products of many other manufacturers and market leaders in this field. This opens new building and design possibilities for your hobby project, respectively the Polish manufacturer's products provide a great addition to your children's play adventures.

Profile