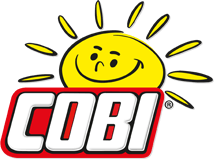 Interlocking plastic bricks for Young and Old
The manufacturer Cobi Toys from nearby Poland produces high-quality kits, consisting of clamping blocks made of plastic. Depending on the product, these provide quick fun and are suitable as toys for children or relaxed leisure activities for adults.
 
Models with many options
From Cobi Toys we have vehicles, tanks, military and civil aircrafts, ships, figures, buildings, as well as some iconic monuments in our shop range. Collectors can construct them directly out of the box while children enjoy trying out and playing on the sets. According to the manufacturer, the Cobi products are suitable for children from the age of five.

The range of products in our online shop ranges from modern NATO vehicles, tanks, guns and figures from different nations of the Second World War, to aircraft and ships from different eras. This opens up a wide range of options for lovers of easily buildable models.
 
Compatibility
The individual terminal blocks match the products of many other manufacturers and market leaders in this area. This creates completely new construction and design options for your hobby project or the products from Cobi Toys provide a great addition to your children's adventure.