Bolt Action: Blitzkrieg German Infantry
Item Number:
BA-402012012
Manufacturer
Bolt Action
Scale:
1:56
33.

00

€
Unfortunately sold out at the moment
No new delivery date known, if necessary please activate stock alert
Representing the classic image of the German infantryman during World War II, these miniatures are equipped with knee-high jackboots, unadorned 'coalscuttle' helmet and a martial discipline that took them to almost complete dominance of mainland Europe.

Whilst the glory often went to the armoured knights of the panzer divisions, the infantry were the spine of the Wehrmacht. Germany's cunning use of Blitzkrieg tactics conquered Poland, swept through the Low Countries and defeated France, before turning their attention to the Soviet Union. Soviet forces were pushed all the way to Moscow as the relentless march of Hitler's landsers swept all before them.

Well-led, superbly trained and equipped with the finest infantry weapons in the world, the German infantryman was a skilled and dangerous foe capable of thinking for themselves if needed, giving them a significant advantage over their foes. Vorwarts!

30 plastic figures.

Scale: 28mm / 1:56

This product is supplied unassembled and unpainted. Glue and paints not included.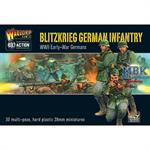 Write now your personal experience with this article and help others with their purchase decision.