This attractive photo album, the third Model Foto Focus from Trackpad Publishing, includes colour full-view and walkaround captioned photos of the important bridge-laying tank from the Leopard 1 family of vehicles. Using photos taken by Carl Schulz, Ralph Zwiling and Kenneth Ostergaard as well as those supplied by German company FFG is compiled into an attractive album. This Model Foto Focus includes colour full-view In-the Field and walkaround captioned photographs, making for a compelling collection of images. It covers the full operation of this complex machine revealing how it operates in great detail. In the 80 pages are well over 240 photos, some of which are full page size. The cantilever system proved the more suitable of two different systems during early army tests. The bridge is launched horizontally, thereby presenting a relatively low profile. This is the biggest advantage of the Biber system. Most of its contemporaries used a simple up-and-over system, or a scissor system (with the bridge hinged in the middle and launched through 180 degrees), both of which presents a large target to the enemy.
The Leopard 1 hull was actually redesigned for Biber. The most obvious change is the addition at the rear of a battery compartment, similar to that used on Gepard. At the front, the angled corners of the tank hull were eliminated by extending the sides of the main hull forward to meet a full-width glacis plate. A second access hatch in the hull top was introduced alongside the driver's hatch. The crew only consists of two, commander and driver. The laying of the bridge can be down fully closed-up, under armour, or remotely from outside the machine.
The bridge itself was designed for the load class MLC 50 (military load classification 50 tonnes), measured twenty-two metres in length and had a roadway four metres wide. It was capable of bridging a 20-metre gap. The bridge weight was approximately 9.5 tonnes. It was constructed of light pressed sheet metal made up into an upper section (the roadway) and a lower section of vertical plates. With the vehicle on the move, the bridge is carried above the chassis in two symmetrical sections.
Delivery of all 105 vehicles from the prime contractor, MaK, was made in 1973 and 1974, plus 124 tank assault bridges. Bibers were also exported to the Netherlands, Australia, Canada, Italy, Denmark and Chile.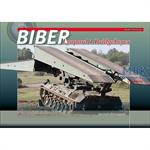 Write now your personal experience with this article and help others with their purchase decision.