Israeli Wild & Cruel Cats: Achzarit "Degem Beth"
Item Number:
SABINGA-ACH6
Manufacturer
SabIngaMartin
This book is volume 6 in the "Wild and Cruel Cats" series on Israeli heavy tank based APC's in IDF service. It covers the different variants of Achzarit "Degem Beth" (Mk-IIs) – a T-54/5 tank based APCs and their operation in IDF as well as some of the late type special Achzarits such as the Ambulance and Fitter.
Authored by Dr. Robert Manasherob, a world recognized expert on Israeli military tanks and vehicles, this book contains dozens of new and never published photos, new and accurate info and facts, results of several years of research, 1/35 scale drawings, color profiles, more than 195 photos including action photos, crew photos, walk around photos, unique markings and illustrations.
- More than 195 color photos
- Dozens of unique and previously unpublished photos
- Combat photos
- In-action photos
- Walk-around photos
- 1/35 scale line drawings
- Unique markings
-Detailed color profiles
- Tactical markings

Autor(en): Robert Manasherob
Verlag: Sabinga
Seitenzahl: 80
Sprache: Englisch
Auflage: 1
Erscheinungsjahr: 2016
Maße: 28 x 21,5 cm
Einband: Softcover
Gewicht: 0.40 kg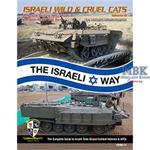 Write now your personal experience with this article and help others with their purchase decision.