Die Refernezliteratur für jeden Anspruchsvollen Modellbauer. Sehr viele Detalierte Fotos, Zeichnungen und technische Daten.
Textbeispiele unter http://panzertracts1.tripod.com/pubs.htm
Thanks to the School of Tank Technology, Krupp's correspondence and meeting notes survived to provide us with a detailed insider view of the development of the Maus and the associated TIger-Maus (later renamed E 100) projects. Since the rigid procurement system had broken down, anyone attending the next project meeting could add novel ideas as requirements such as remotely controlled flamethrowers and a 2 cm anti-aircraft gun in the turret. Thanks to a private collector, the detailed large-scale component drawings created by Porsche and Krupp for the Maus survived and were used to create the new scale drawings of the Maus. Pure chance also preserved the drawings, notes, and photographs that made it possible for us to create new drawings of the E 100 with a turret designed by Krupp in 1944. In accordance with our high standards, the text and data are based solely on primary sources. 62 clean/rare photos and 67 scale drawings illustrate this 72 page book.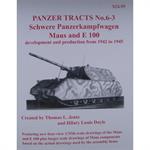 Schreiben Sie jetzt Ihre persönliche Erfahrung mit diesem Artikel und helfen Sie anderen bei deren Kaufentscheidung