For the first time standardized trailers came when German forces during the Franco-German War of 1870-71 used. But only during the First World War they could make their large benefits under the subsidy trucks to the test. The applications were diverse: They often completed as mobile devices, the structures of various camps and individual units. Workshop trailers, lighting pendants and kitchen tailers here were just as indispensable as a medical trailer. The offer was completed by trailer for Flak and artillery, general equipment and ammunition.
128 pages, 205 x 140 mm, 123 w illustrations, 19 color illustrations, 5 line drawings, German language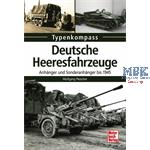 Write now your personal experience with this article and help others with their purchase decision.