Fahrzeug Profile 89 - geschütze Trsp & Sonderfhz.
Item Number:
FP89
Manufacturer
UNITEC

Geschützte Transport- und Sonderfahrzeug der Bundeswehr
In the 1990´s the concept of the German forces changed dramatically. Taking part in many peace keeping activities world wide required new support vehicles. A new generation was developed.
This issue shows the new generation of armoured support vehicles of the German forces.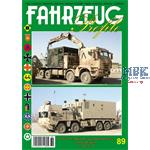 Schreiben Sie jetzt Ihre persönliche Erfahrung mit diesem Artikel und helfen Sie anderen bei deren Kaufentscheidung