Fahrzeug Profile 109 "Somme Lancer"
Item Number:
FP109
Manufacturer
UNITEC

Somme Lancer - British tank scouts practicing in Germany"

With the withdrawal of the last British troops from the Sennelager, Bielefeld and Gütersloh area in 2019, the British Army has become a rare sight in the local area.

This changed when, on September 24, 2021, the "Somme Lancer" exercise started - a nearly 700-kilometer relocation of the Royal Lancers Battle Group from Cambrai Barracks, near Catterick, in the county of North Yorkshire to the Sennelager Training Center .

Within 55 hours, around 650 soldiers with around 200 wheeled and tracked vehicles were transferred by land, air and sea to the operational area on the edge of the Teutoburg Forest. With their CVR/T family of tracked vehicles, the Royal Lancers represent the eyes and ears of the British Army.

The exercise was divided into a free-running "Field Training Exercise" in the Hameln-Hessisch Oldendorf-Rinteln-Extertal area. The purpose of the exercise was to monitor rooms in front of your own troops. This was followed by a stay at the military training area with "live firing", i.e. firing with live weapons, and air force support at the Sennelager training area.

After almost six weeks of training, "Somme Lancer" ended on October 23, 2021 with the return of the Royal Lancers Battle Group home.



48 pages, 98 color photos, 6 organizational charts and graphics, text entirely in German.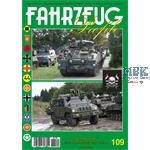 Write now your personal experience with this article and help others with their purchase decision.