Namer Heavy IFV Namer IFV in IDF Service Pt 1
Item Number:
DEP31
Manufacturer
Desert Eagle Publ.
The subject is the IDF heavy APC "Namer" (Leopard in Hebrew) the well-known APC in service with the IDF for 13 years. The book includes 108 pages (instead of 84 pages as in the older issues) and is released hand in hand with MENG Models Namer 1/35 model to be released at the same time.
Throughout illustrated with color pictures.

Author (s): Michael Mass
Publisher: Desert Eagle
Number of pages: 108
Language: English
Edition: 1
Release year: 2021
Dimensions: 28 x 21 cm
Binding: softcover
Weight: 0.50 kg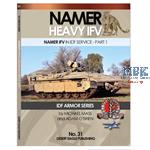 Write now your personal experience with this article and help others with their purchase decision.