F.A.Q. 2 - Armour Modelling (ENGLISH) 3.Auflage
Item Number:
AK-038
Manufacturer
AK Interactive S.L.

New and improved limited edition of the legendary FAQ2 book with more pages, bigger photos, better image quality and color correction

Mig shows new technqiues like the Modulation Style, Streaking effects, Salt technique and Hairspray technique.
A improved step by step guide explaining all weathering techniques such mud, dust, rust, chipping, oil , fuel and chapters like composition in dioramas, terrains, vignettes and much more. The definitive modelling guide where you will find many different examples explaining the same technique. More than 1500 color photos and over 320 pages explaining all new technqiues and some of the classic ones..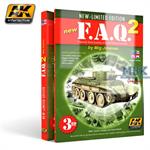 Write now your personal experience with this article and help others with their purchase decision.