Aces High Magazine - Issue 10 Eastern Front
Item Number:
AK-2919
Manufacturer
AK Interactive S.L.

9.

00

€
Unfortunately sold out at the moment
No new delivery date known, if necessary please activate stock alert
Eastern Front as the German called it or the Great Motherland War as the Russians knew it, the Front of The East was the biggest and main front of the Second World War in Europe where giants such as Hitler's Germany and Stalin's Russia faced each other. Aces High dedicates its 10th issue to this Front with the most mythical and unique planes of both sides with an interesting variety of decorations and scales.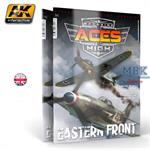 Schreiben Sie jetzt Ihre persönliche Erfahrung mit diesem Artikel und helfen Sie anderen bei deren Kaufentscheidung