Grumman F-14B "Bombcat"
Item Number:
GWH-L7208
Manufacturer
GREAT WALL HOBBY
Scale:
1:72
Plastic model kit

The F-14 received its first of many major upgrades in March 1987 with the F-14A Plus (or F-14A+). The F-14A's TF30 engine was replaced with the improved GE F110-GE-400 engine. The F-14A+ also received the state-of-the-art ALR-67 Radar Homing and Warning (RHAW) system. Much of the avionics components, as well as the AWG-9 radar, were retained. The F-14A+ was later redesignated F-14B on 1 May 1991. A total of 38 new aircraft were manufactured and 48 F-14A were upgraded into B variants.

scale 1:72

unbuilt / unpainted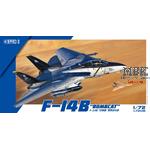 Write now your personal experience with this article and help others with their purchase decision.