Vallejo + Alpine Waffen-SS Tank Crew, Kursk 1943
Item Number:
VA70249
Manufacturer
Vallejo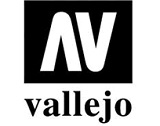 38.

95

€
Base Price: 1 Liter = 649.

17

€
Unfortunately sold out at the moment
No new delivery date known, if necessary please activate stock alert
The fourth set in the collection contains an exclusive resin figure in 1/35th scale.
from Alpine Miniatures, modelled by Taesung Harmms for Vallejo.
The figure depicts a Waffen SS tank soldier at the Battle of Kursk in 1943. He wears a reversible camouflage suit in the oak leaf pattern and the typical black cap of the Waffen-SS.
From the beginning, in 1943, until the end of the war, these camouflage suits were very popular with the crews of armoured vehicles.
This set contains:

- A base colour and a lace shade for painting the black uniforms of the
German tank crews.
- One base colour for the "Eichenlaubmuster" (oak leaf camouflage).
- Three colours for the camouflage patches.
- One colour to highlight the camouflage colours.
- One colour for painting the leather elements.
Colour set with 8 colours 17ml each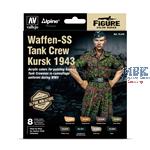 Write now your personal experience with this article and help others with their purchase decision.