The Statue of Liberty - Freiheitsstatue
Item Number:
IT68002
Manufacturer
ITALERI
Scale:
1:sonstige

18.

95

€
Order Item
Will be ordered when you order.
Order Item
Plastikbausatz
das fertige Model ist ca. 15 cm hoch und 17 cm breit

ungebaut/unbemalt

100% NEW MOULDS

Easy assembled model kit with an interlocking technique
The box includes also the plastic parts for realizing the statue and Reference Leaflet

Inside the Reference Leaflet with historical features, instruction and color indication

The Statue of Liberty (Liberty Enlightening the World) is a colossal neoclassical sculpture on Liberty Island in New York Harbor in New York City, in the United States. The copper statue, designed by Frédéric Auguste Bartholdi, a French sculptor, was built by Gustave Eiffel and dedicated on October 28, 1886. It was a gift to the United States from the people of France. The statue is of a robed female figure representing Libertas, the Roman goddess, who bears a torch and a tabula ansata (a tablet evoking the law) upon which is inscribed the date of the American Declaration of Independence, July 4, 1776. A broken chain lies at her feet. The statue is an icon of freedom and of the United States, and was a welcoming sight to immigrants arriving from abroad.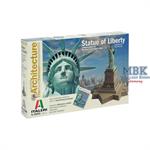 Schreiben Sie jetzt Ihre persönliche Erfahrung mit diesem Artikel und helfen Sie anderen bei deren Kaufentscheidung