Wooden base for the upmarket demands.
Rectangular wooden base made of high quality and lightweight glued Paulowina wood WITHOUT visible glue joints!
Basic dimensions 19.5 x 13.5 cm, usable space 17x11cm, height 3.5 cm.
Professionally milled semi-groovemilling. The bases are glued and screwed and fitted with felt pads. By using Paulowina wood the bases are pleasantly light (important for transport to exhibitions, etc.).
This size is ideal for 1:72 & 1:48 Models or small 1:35 Models
. This base is completely untreated, i.e. you can leave it as such in nature or apply your own glaze as desired. Thus your design possibilities are endless.
Note: Wood is a natural product which may have color differences, and growth-related irregularities. Variations in color and texture between parts of a model base, or to other bases of the same material are reserved. Well oiled and varnished surfaces may look uneven. Wood may change its volume, which can lead to warping, cracking and imperfect fit.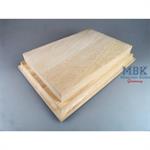 Schreiben Sie jetzt Ihre persönliche Erfahrung mit diesem Artikel und helfen Sie anderen bei deren Kaufentscheidung