Cactus Air Force Deluxe Set - Over Guadalcanal
Item Number:
ARMA70049
Manufacturer
ARMA HOBBY
Scale:
1:72
Two kits with accessories.
Kits of the F4F-4 Wildcat and the P-400 / P-39 D Airacobra
The F4F Wildcat was the US Navy's primary carrier-based fighter at the start of World War II.
Distinctive for its stocky appearance, the Wildcat had been developed as part of a successful line of pre-war biplanes and entered service with the US Navy a year before the Japanese attack on Pearl Harbor.
By the time of the decisive battles for Midway and Guadalcanal, the F4F-4 model had become the most numerous variant, and new tactics enabled American Navy and Marine pilots to gain the upper hand over the previously all-conquering Mitsubishi Zero.
The F4F-4 entered service in 1941 and featured six machine guns and Grumman's patented Sto-Wing folding wing system.
This allowed more aircraft to be accommodated on a carrier.
This increased the number of fighters that could be parked on a carrier by more than a factor of two.
The F4F-4 was the version that saw the most combat in the early years of the war.
Including the Battle of Midway.
The Bell P-39 Airacobra was a fighter produced by Bell Aircraft for the United States Army Air Forces during World War II.
It was one of the most important American fighter aircraft at the beginning of the war.
Plastic model kit
with accessories made of 3D-printed resin
four marking options each
include masks
scale 1:72
unbuilt / unpainted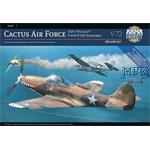 Write now your personal experience with this article and help others with their purchase decision.