F/A-18 Hornet Swiss Air Force - RAAF 1/72
Item Number:
IT1429
Manufacturer
ITALERI
Scale:
1:72

Plastic Model Kit for a plane
- Scale 1:72
- not assembled or painted
- color & glue not included

F/A-18 HORNET Swiss Air Force - Royal Australian Air Force

SUPER DECALS SHEET FOR 2 VERSIONS - COLOR INSTRUCTION SHEET

The twin-engine supersonic multirole fighter F/A-18 Hornet has been developed to offer an extraordinary flexibility and versatility. It can perform air superiority, ground attack, close support and reconnaissance duties. Thanks to its flexibility, the F/A-18 has been adopted by several Air Forces becoming a relevant commercial success. It is used, in its various configurations, by US Navy, US Marine Corps, Australian, Canadian, Spanish and Swiss Air Forces. More in detail, 26 single seater F/A-18 and 7 twin seater, equipping 3 squadrons, are currently used by Swiss Air Force. The Hornets of Fliegerstaffel 17' the backbone of the Swiss air defense system operating from the Payerne airfield, are recognizable by the eye-catching hawk decoration on the tail, the emblem of the squadron.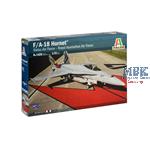 Schreiben Sie jetzt Ihre persönliche Erfahrung mit diesem Artikel und helfen Sie anderen bei deren Kaufentscheidung